After biking and biking this summer (and not making much progress), this past weekend was on a different tune. For my second time (ever), went for a kayaking weekend, this time on Lake Geneva. Basically, this: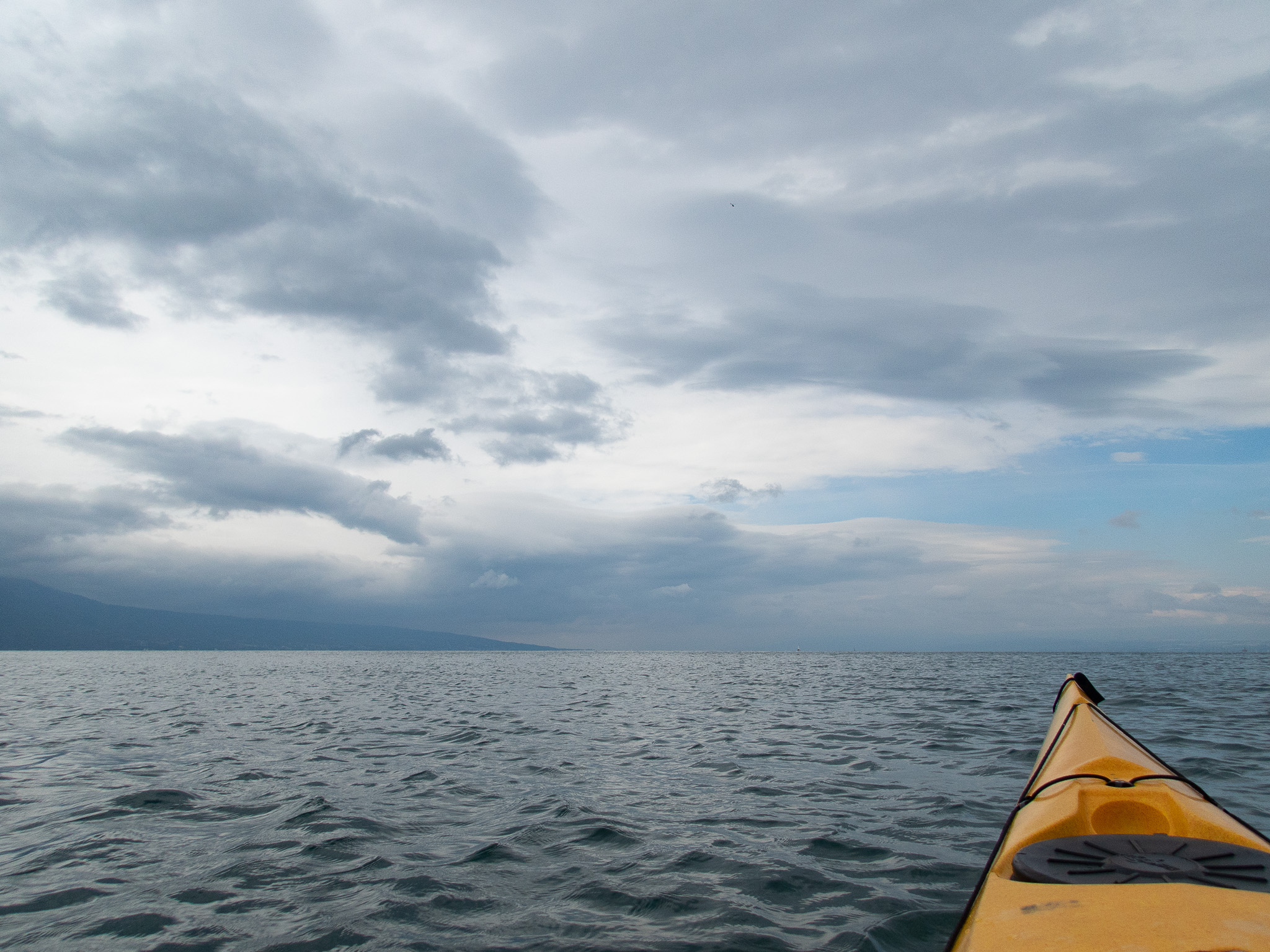 which is very different from my usual "outdoor" environment.
My previous time kayaking was a basic course, so lots of introduction and explanations (on land), plus a tiny bit of paddling, plus lots of rescue stuff (self and others). Definitely useful, but didn't feel like actually "going kayaking".
This weekend however, it was the next step - going a bit further distance, more paddling, more "on the way" learning. And while the weather wasn't very nice on the first day (see above), the second day's morning was awesome (the afternoon was again just drab):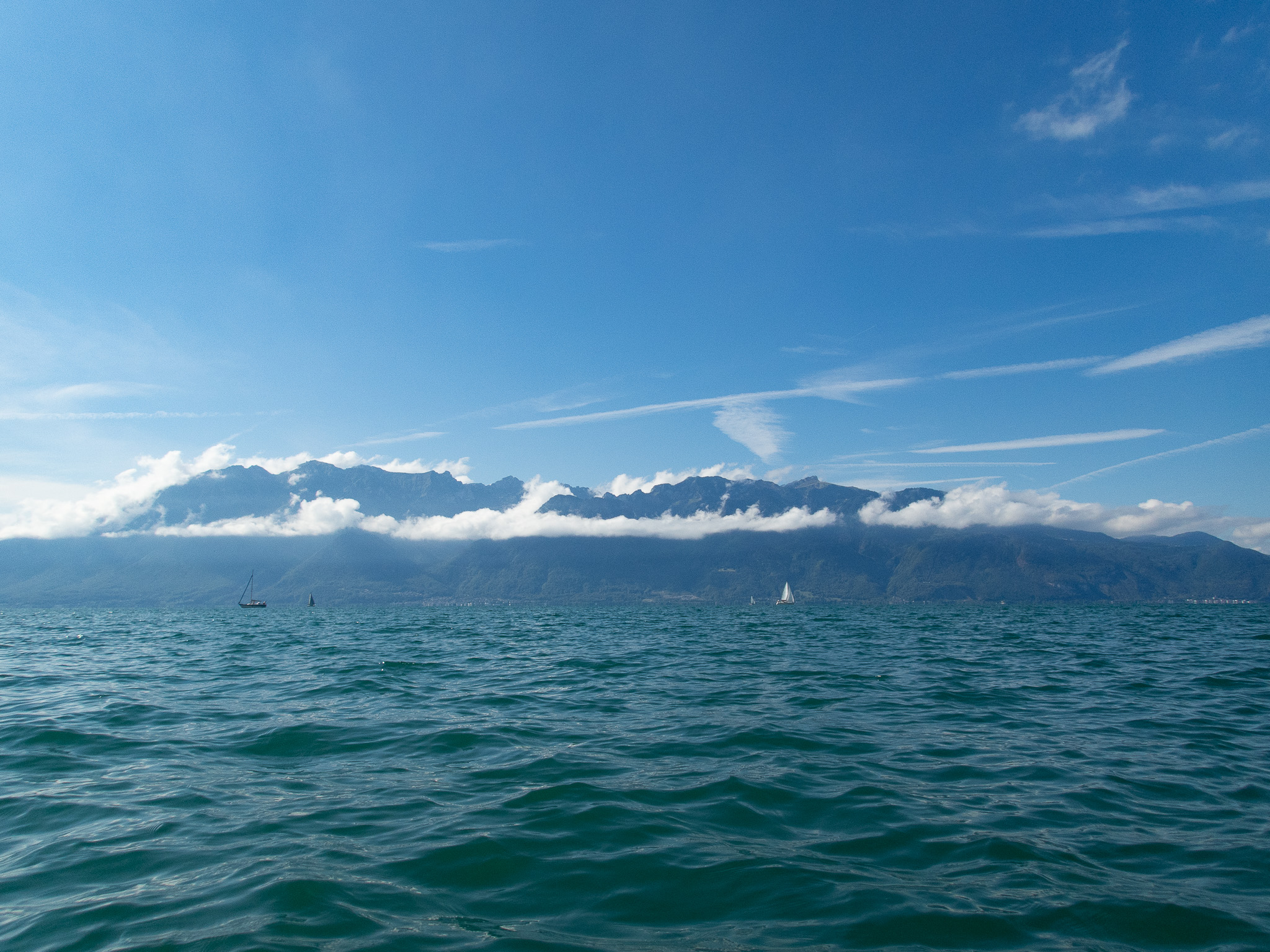 Why Kayaking?
Well, for one, water is awesome. And then the question is, what kind of water activity? Not swimming since I suck at that.
It all started with an ad, I think on digitec's web site, about a certain brand of inflatable catamarans. I did not know these things existed at all (for people living in an apartment instead of castle), so it opened my interest into accessible water sports for city dwellers.
One thing led to another and to yet another and in the end I reached the conclusion that learning kayaking is most interesting from a couple points of view:
It is self-powered, and kind of an endurance activity. This is important for me. While sailing is definitely on my long term radar for the skill itself, paddling is much more basic and involved (from my point of view), so it possibly answers my search for a sport to counterbalance my biking (upper/core vs. core/lower).

You can paddle on a river (which seems a bit strange to me), on a lake, on a big lake, and even on the sea. I mean here along the shore, not crossing a sea—only crazy people would do that. So there is place to grow one's skills.

In a proper sea kayak, you are "in" the water. On a SUP board (which I also did a few times), you're "on" the water. But a kayak seems a very, hmm, intimate way of travelling on the water. And because you sit much lower, it's not so much a fight for survival, err, balance as on a SUP board. You can actually take time to take a picture, drink water, etc.

It is a symmetrical sport. Very important for me, and again bonus points over stand-up paddling, since you have a symmetrical paddle (feathering aside, see the wikipedia article on paddles).
So after all thinking done, and after finding good course options, I was eager to learn basic kayaking.
How's it feel?
The most funny thing is how slow moving on the water is. After my second kayaking weekend, it looks like with neutral wind and no waves, my personal sustained speed is somewhere around 6km/h (3.2 knots) for around 10 minutes, 5.2km/h (2.8 knots) for half an hour. The exact value is not important, the point is, it's definitely less than 10km/h. I can run faster, I can bike significantly faster, I can even bike uphill (up to a certain inclination) at this speed or faster even.
And yet, this is a speed that still makes you feel that you're "going", despite being just a bit faster than walking. And if you get wind or some waves, it feels fast even! A bit funny, but true. And because you can go straight for your target, over minutes the distance does add up. Just not fast enough :)
Another fun thing about kayaking is how much fun shallow water is. On a sunny day, you can actually see lots of things in the water if it is shallow. I didn't know for example how underwater plants look like :)
One downside however is that I can't yet make this an aerobic activity. Since I'm mostly cycling and in some odd years running, my upper body is not strong enough to be able to paddle strongly beyond some very short distances, so I get tired (muscles) before I can actually get my heart rate up. On these two weekend days, max HR as recorded with a chest strap (so should be accurate) was 107, respectively 115 bpm. Which is a far far away cry from my biking/running steady state, not even speaking of max. I guess this will get fixed with more experience and training?
Water is complex
The other very curious thing I learned is that water is much, much more complex than I thought. Started to read some books and it's definitely complex on paper, but even on a lake, it reacts to wind in oh so interesting ways! A bit of wind and the surface changes immediately, some real wind and in 10 minutes you have waves (on a lake! I didn't know this is possible…) that become a real impediment to easy, straight paddling.
As an example, it went from this: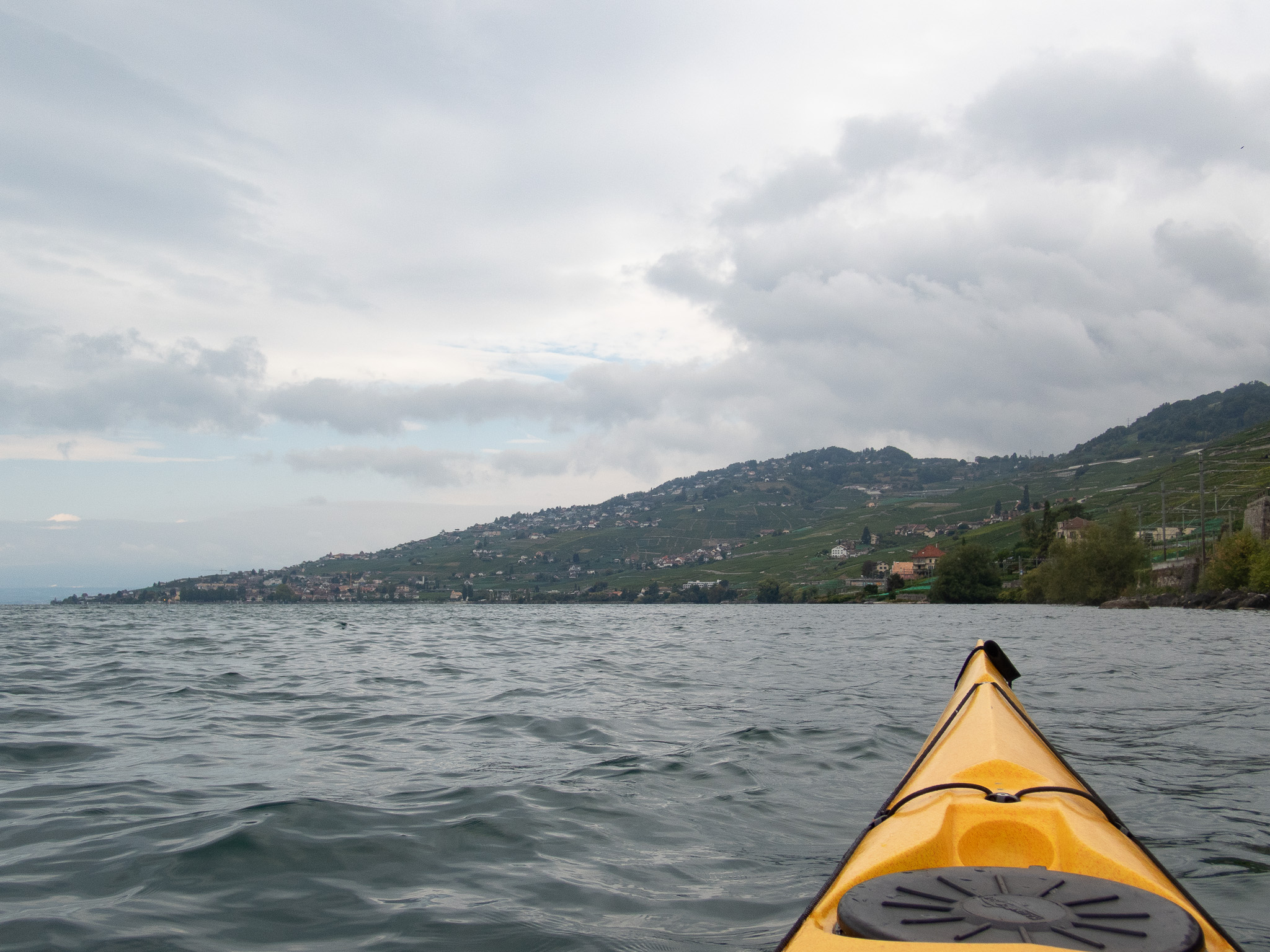 to this in less than five minutes (and the picture doesn't do it justice):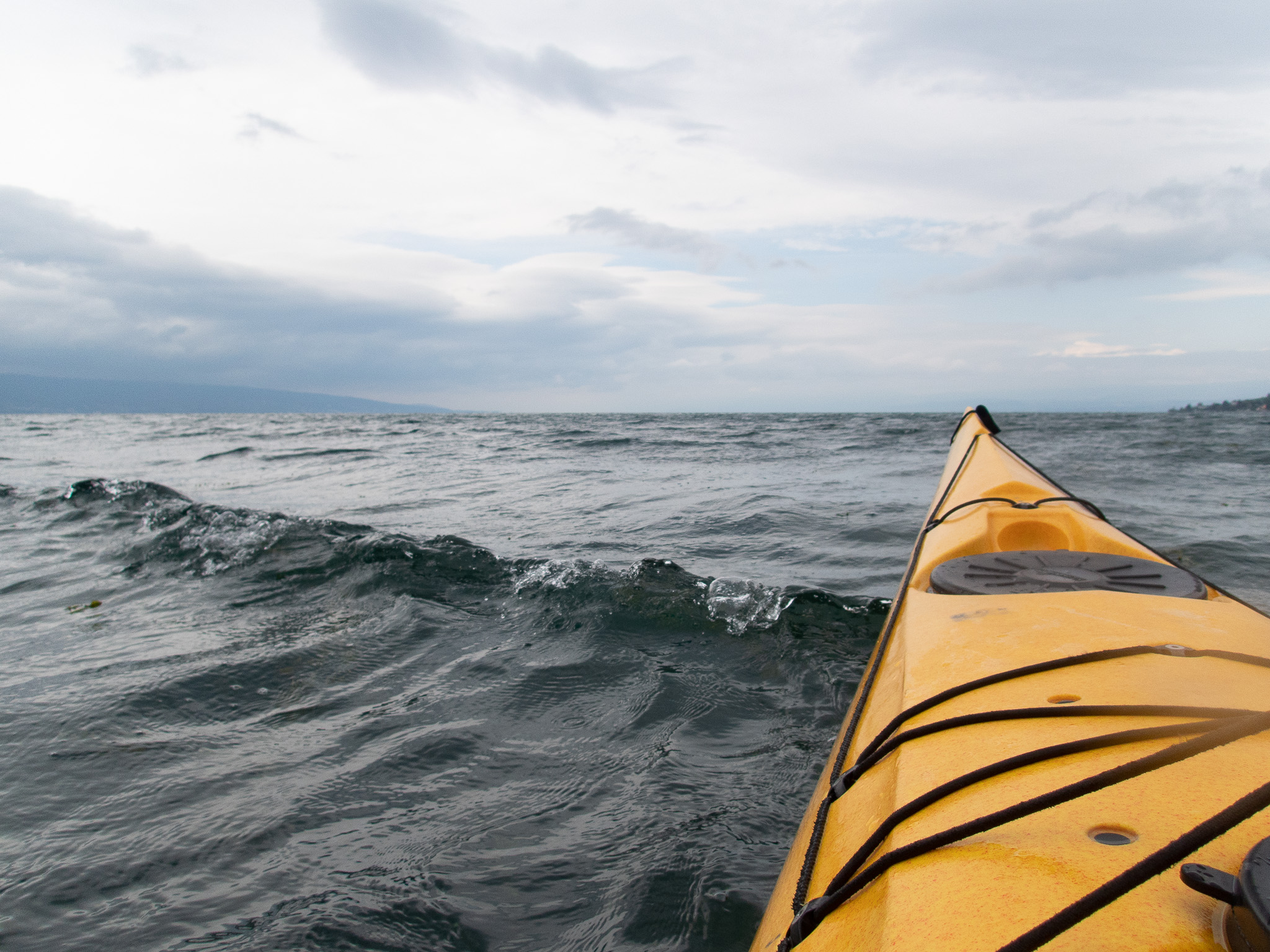 and to even a bit more, in a very short time span. From an easy paddle, to struggling against waves and the wind (which is trying to both push the kayak back and also turn it). And then, ten minutes later, all good again. I was like "huh?"…
And then, the next day started with again what I call "normal" water (just small ripples), but by the afternoon it became this: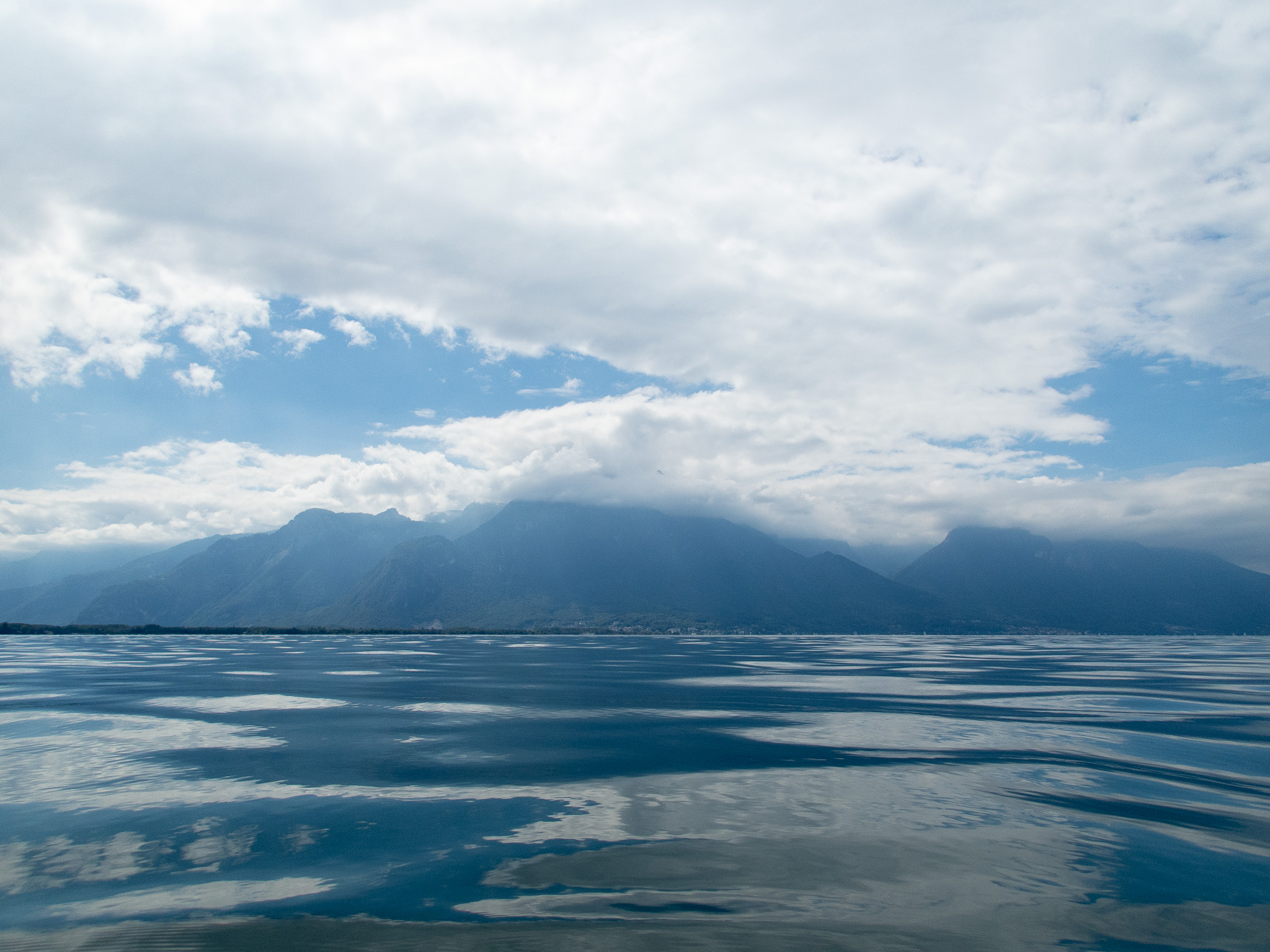 Which again confused me greatly. How can a large body of water be this still? Even ships passing were only generating large waves, but the waves themselves had a smooth surface.
Olympus TG-5 Tough camera
I bought last year an Olympus Tough camera (a TG-5), with family beach vacations in mind. That got some use out of it, but it's actually perfect for kayaking! I shot a large number of pictures this weekend with it—which is why I was so slow, maybe. But it was fun, to not fear water, or even better, to just put the camera in the water: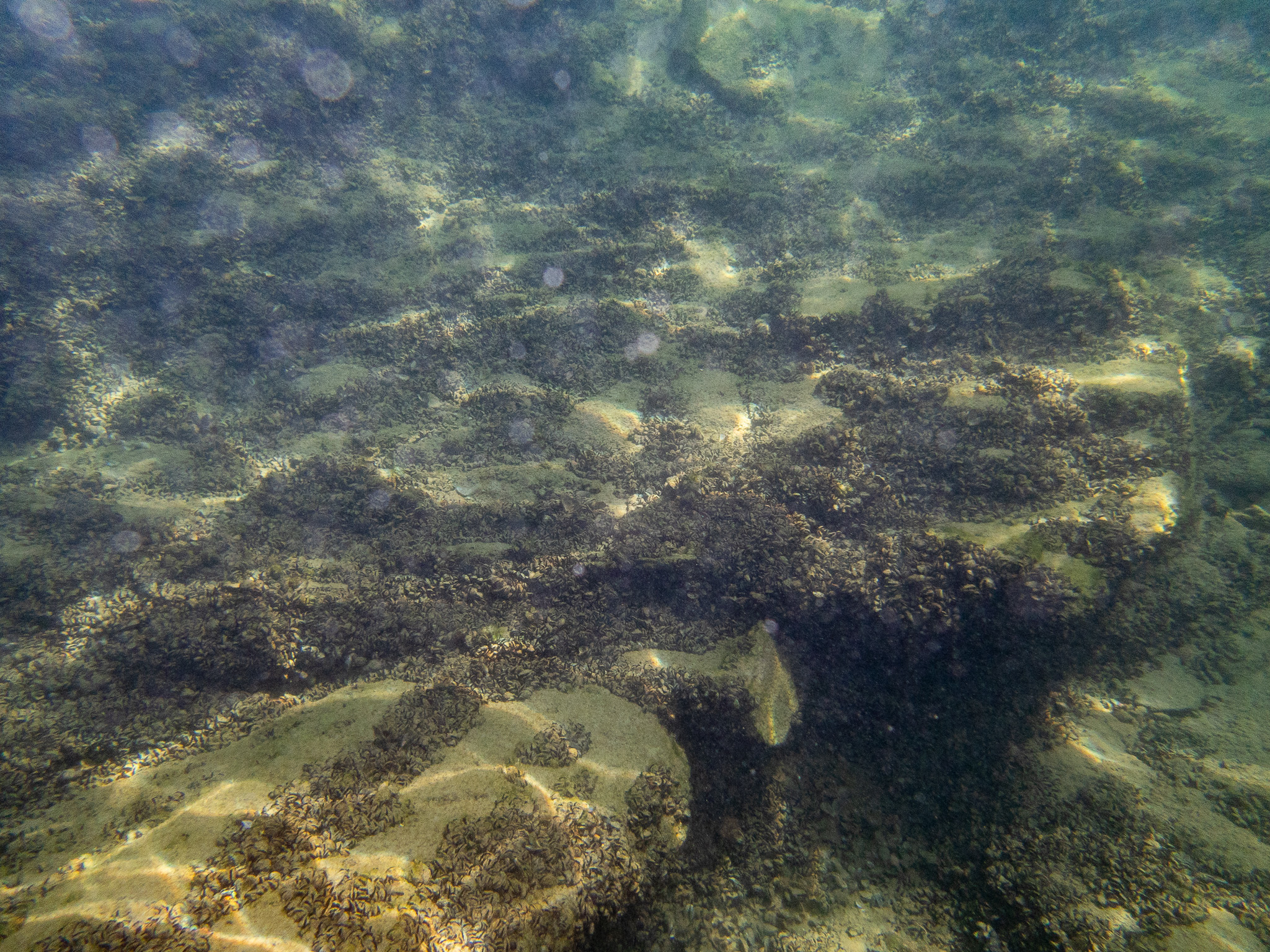 However, I also learned that being in a kayak even in nice weather gives a very unstable platform, so even with optical stabilisation (which the TG-5 does have), pictures will many times get tilted or even miss the framing significantly. So my new modus operandi is to set the camera on sequential low (that means with mechanical shutter), and fire 4-6 frames of every picture. This way, it's somewhat guaranteed that each burst will have a usable picture (as usable as can be from this small sensor).
Even with a small sensor, in nice sunny weather, pictures do look nice, as you can see in the "on the water" pictures in this post, and at a stretch, it can even pretend to be good for regular photography, still from the water of course: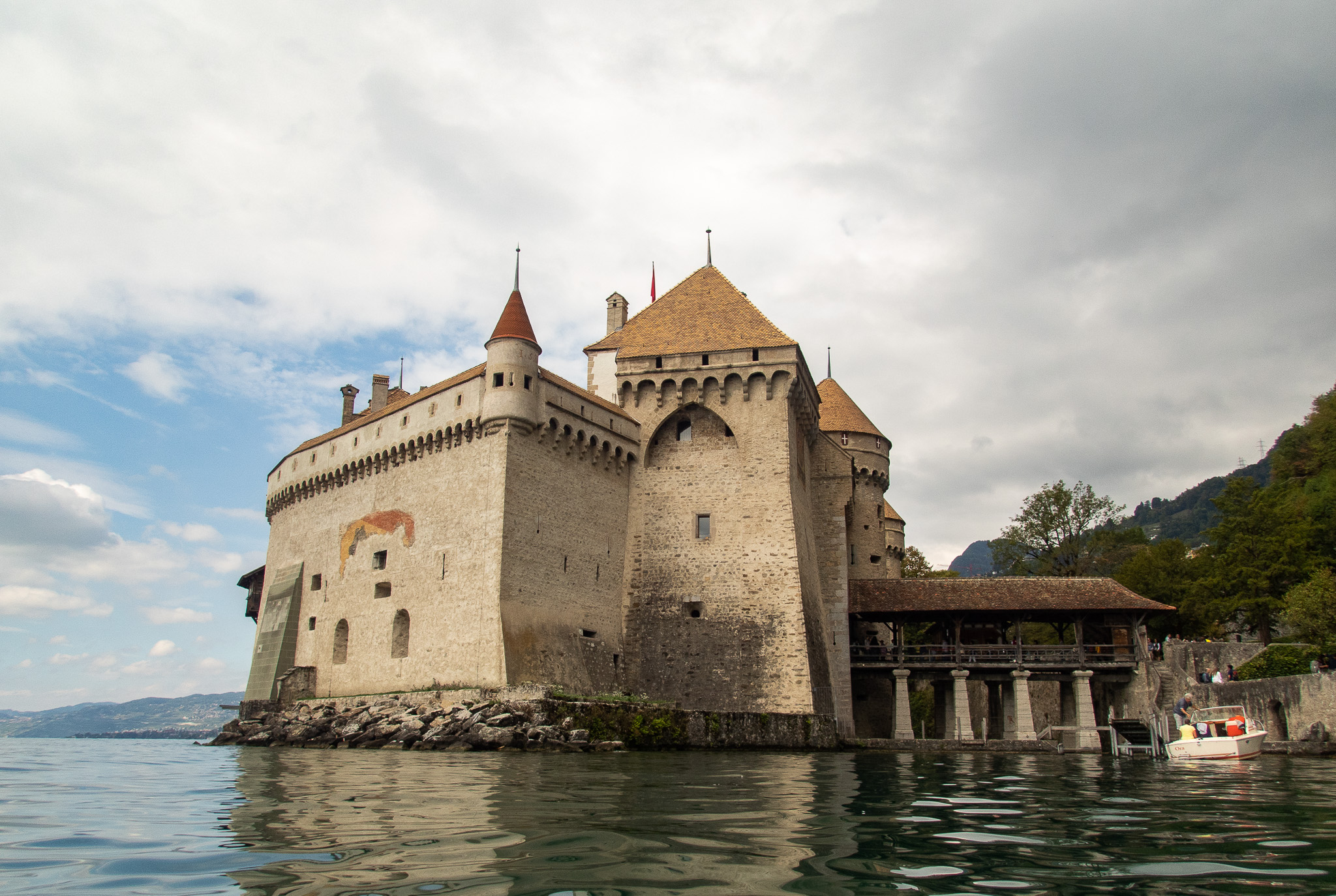 And because it's small and easy to easy, you don't scare the wildlife, for example: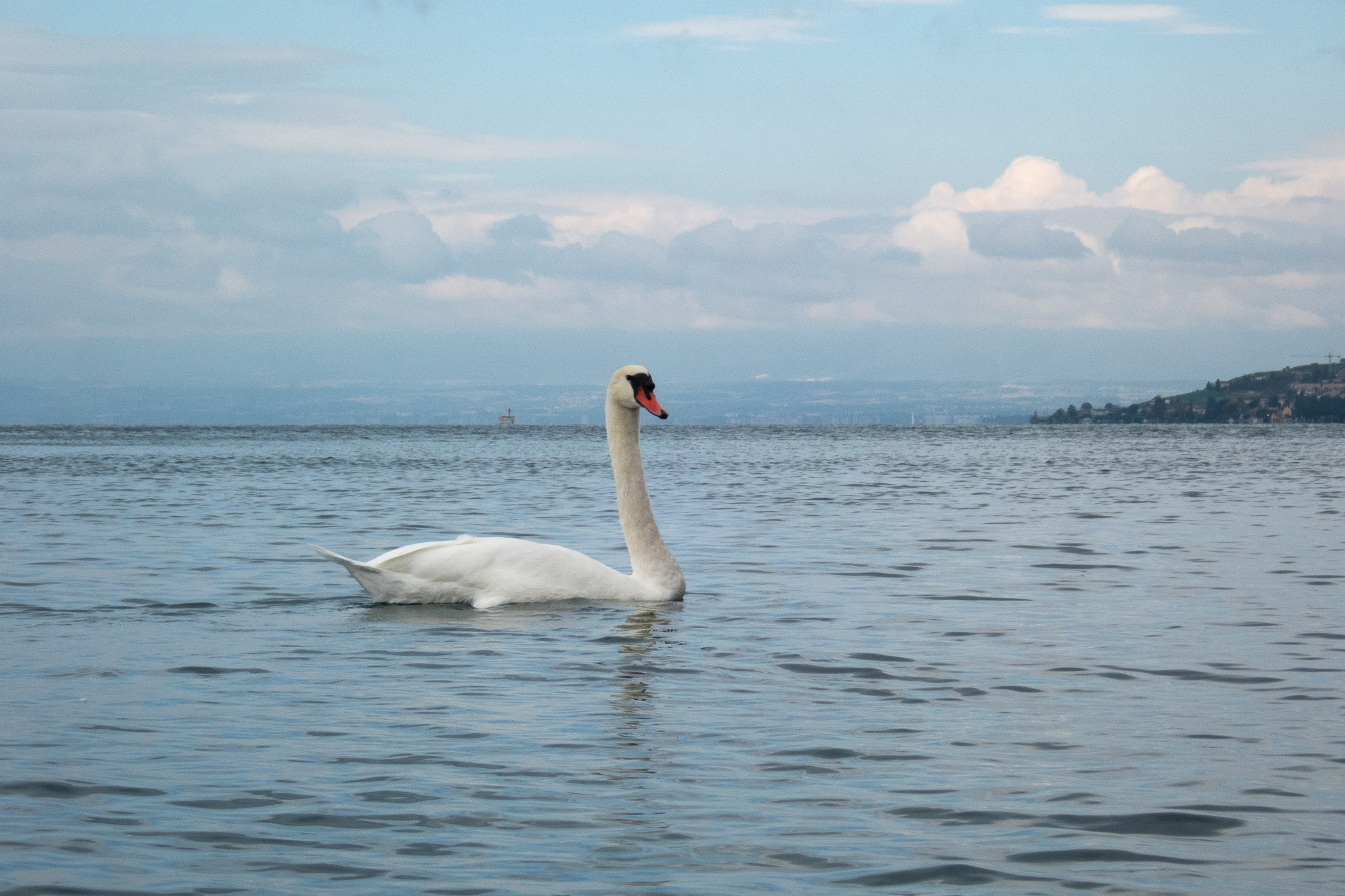 So overall I'm very happy with this camera, for its intended purpose.
One funny thing regarding taking pictures on the water was that, as ships were passing nearby—which is a good thing, because big ship means many large waves, which are awesome fun!—I kept taking photos. And at one point, I got a very funny sensation, and a feeling first of "I've been doing this before" and then "good angle, launch all torpedoes!". When I realised what was happening—flashbacks from computers games from ages ago—I started laughing out-loud. Funny how the brain works and how it makes connections… So here's one such picture: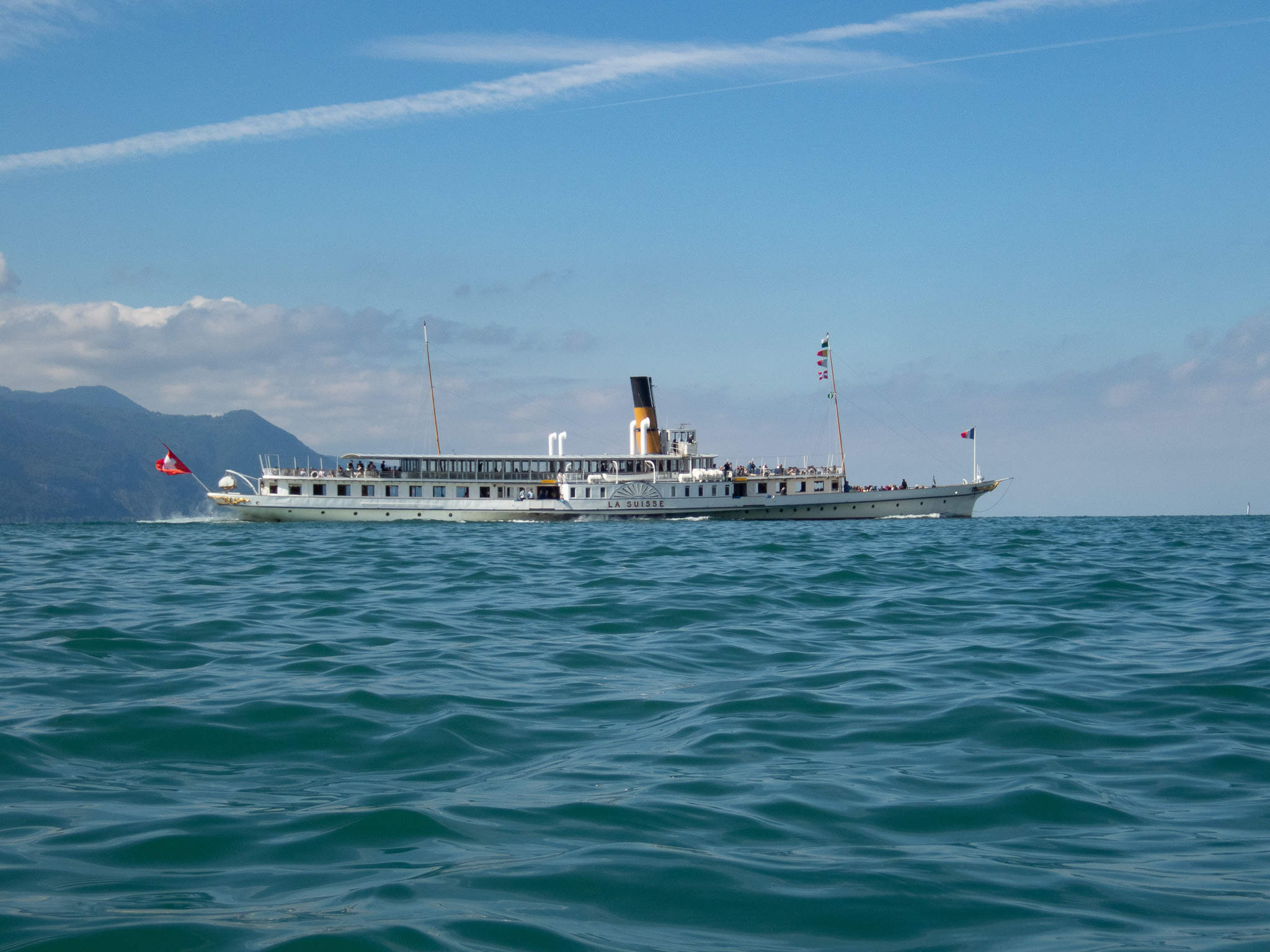 Thoughts on the future
Kayaking is fun, but it's much less accessible sport than biking. I still don't know if I can actually pursue this long term beyond "relaxation" level, because the time overhead to getting on the water is prohibitive, for all solutions I've investigated so far. It seems what you can do while living in an apartment is one of inflatable, foldable, or modular kayaks, and all come with their downsides.
A "real" sea kayak is a beautiful thing, and makes one dream of expeditions; dangerous, beautiful, real expeditions out on the ocean (coast). But that's out of the reach of normal people living in a land-locked country…
Well, we'll see what the future brings. At least, getting out on the water once in a while is a nice thing, and one that I'm looking forward to when I'll be able to.
The non-kayaking side
While the weekend was mostly around kayaking, the nice location did lend itself to other "normal" activities, like enjoying the local food, a bit of walk around, and taking regular land-based photos. Not the first time, and likely not the last time we'll visit this area.
And with that, a last picture (but you can see more here):