To start off, let me say it again: I hate light pollution. I really, really hate it. I love the night sky where you look up and see thousands of stars, and constellations besides Ursa Major. As somebody said once, "You haven't lived until you've seen your shadow by the light of the Milky Way".
But, ahem, I live in a large city, and despite my attempts using star trackers, special filters, etc. you simply can't escape it. So, whenever we go on vacation in the mountains, I'm trying to think if I can do a bit of astro-photography (not that I'm good at it).
Which bring me to our recent vacation up in the mountains. I was looking forward to it, until in the week before, when the weather prognosis was switching between snow, rain and overcast for the entire week. No actual day or night with clear skies, so… I didn't take a tripod, I didn't take a wide lens, and put night photography out of my mind.
Vacation itself was good, especially the quietness of the place, so I usually went to be early-ish and didn't look outside. The weather was as forecasted - no new snow (but there was enough up in the mountains), but heavy clouds all the time, and the sun only showed itself for a few minutes at a time.
One night I was up a bit longer than usual, working on the laptop and being very annoyed by a buzzing sound. At first I thought maybe I was imagining it, but from time to time it was stopping briefly, so it was a real noise; I started hunting for the source. Not my laptop, not the fridge, not the TV… but it was getting stronger near the window. I open the door to the balcony, and… bam! Very loud noise, from the hotel nearby, where — at midnight — the pool was being cleaned. I look at the people doing the work, trying to estimate how long it'll be until they finish, but it was looking like a long time.
Fortunately with the door closed the noise was not bad enough to impact my sleep, so I debate getting angry or just resigned, and since it was late, I just sigh, roll my eyes — not metaphorically, but actually roll my eyes and look up, and I can't believe my eyes. Completely clear sky, no trace of clouds anywhere, and… stars. Lots of starts. I sit there, looking at the sky and enjoying the view, and I think to myself that it won't look that nice on the camera, for sure. Especially without a real trip, and without a fast lens.
Nevertheless, I grab my camera and — just for kicks — take one handheld picture. To my surprise (and almost disbelief), blurry pixels aside, the photo does look like what I was seeing, so I grab my tiny tripod that I carried along, and (with only a 24-70 zoom lens), grab a photo. And another, and another and then I realise that if I can make the composition work, and find a good shutter speed, this can turn out a good picture.
I didn't have a remote release, the tripod was not very stable and it cannot point the camera upwards (it's basically an emergency tripod), so it was quite sub-optimal; still, I try multiple shots (different compositions, different shutter speeds); they look on the camera screen and on the phone pretty good, so just for safety I take a few more, and, very happy, go to bed.
Coming back from vacation, on the large monitor, it turns out that the first 28 out of the 30 pictures were either blurry or not well focused (as I was focusing manually), and the 29th was almost OK but still not very good. Only the last, the really last picture, was technically good and also composition-wise OK. Luck? Foresight? Don't know, but it was worth deleting 28 pictures to get this one. One of my best night shots, despite being so unprepared…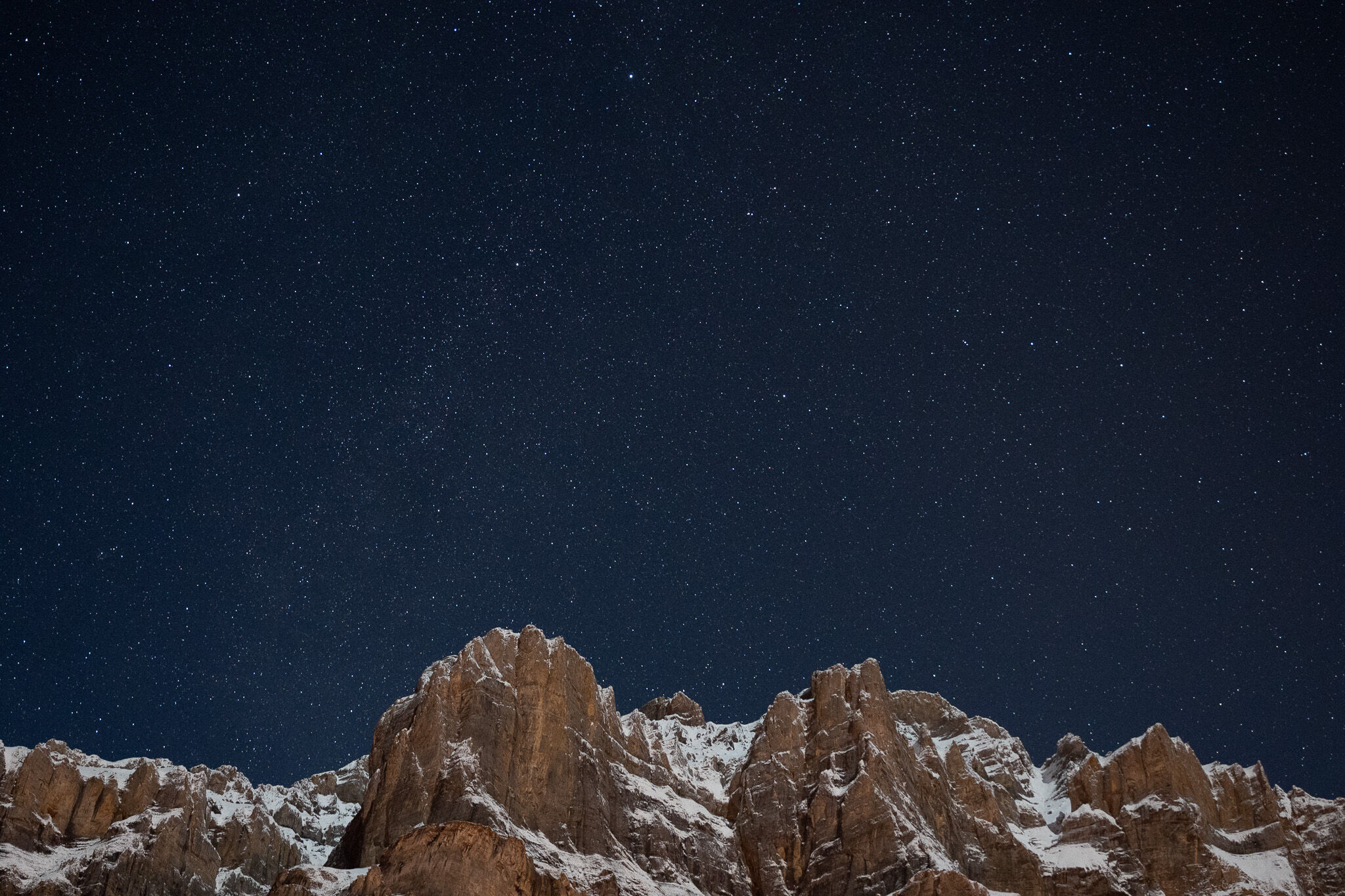 Of course, compared to other people's pictures, this is not special. But for me, it will be a keepsake of how a real night sky should look like.
If you want to zoom in, higher resolution on flickr.
Technically, the challenges for the picture were two-fold:
fighting the shutter speed; the light was not the problem, but rather the tripod and lack of remote release: a short shutter speed will magnify tripod issues/movement from the release (although I was using delayed release on the camera), but will prevent star trails, and a long shutter speed will do the exact opposite; in the end, at the focal length I was using, I settled on a 5 second shutter speed.
composition: due to the presence of the mountains (which I couldn't avoid by tilting the camera fully up), this was for me a difficult thing, since it's more on the artistic side, which is… very subjective; in the end, this turned out fine (I think), but mostly because I took pictures from many different perspectives.
Next time when travelling by car, I'll surely take a proper tripod ☺
Until next time, clear and dark skies…