Somewhat committing to a new sport
Posted on June 12, 2022 with tags sports, life. See the previous or next posts.
Not sure if this is about the gear or the actual sport, but…
Quite a few years ago - 4, to be precise, so in 2018 - I did a couple of SUP trainings, organised by a colleague. That was enjoyable, but not really matching with me (asymmetric paddling, ugh!), so I also did learn some kayaking, which I really love, but that's way higher overhead - no sea around in Switzerland, and lakes are generally too small. So I basically postponed any more water sports 😞, until sometime in the future when I'll finally decide what I want to do (and in what setup).
I did a couple of one-off SUP rides in various places (2019, 2021), but I really was out of practice, so it wasn't really enjoyable. But with family, SUP offers a much easier way to carry a passenger (than a kayak), so slowly I started thinking more about doing it more seriously.
So last week, after much deliberation, bought an inflatable board, paddle and various other accessories, and on Saturday went to try it out, on excellent weather (completely flat) and hot but not overly so. The board choosing in itself was something I like to do (research options), so for a bit I was concerned whether I'm more interested in the gear, or the actual paddling itself…
To my surprise, it went way better than I feared - last time I tried it, paddled 30 minutes on my knees (knee-paddling?!), since I didn't dare stand up. But this time, I launched and then did stand up, and while very shaky, I didn't fall in. Neither by myself, nor with an extra passenger 😉
And hour later, and my initial shakiness went away, with the trainings slowly coming back to mind. Another half hour, and - for completely flat water - I felt quite confident. The view was awesome, the weather nice, the water cold enough to be refreshing… and the only question on my mind was - why didn't I do this 2, 3 years ago? Well, Corona aside.
I forgot how much I love just being on the water. It definitely pays off the cost of going somewhere, unpacking the stuff, pumping up the board (that's a bit of a sport in itself 😃), because the blue-green-light-blue colour palette is just how things should be: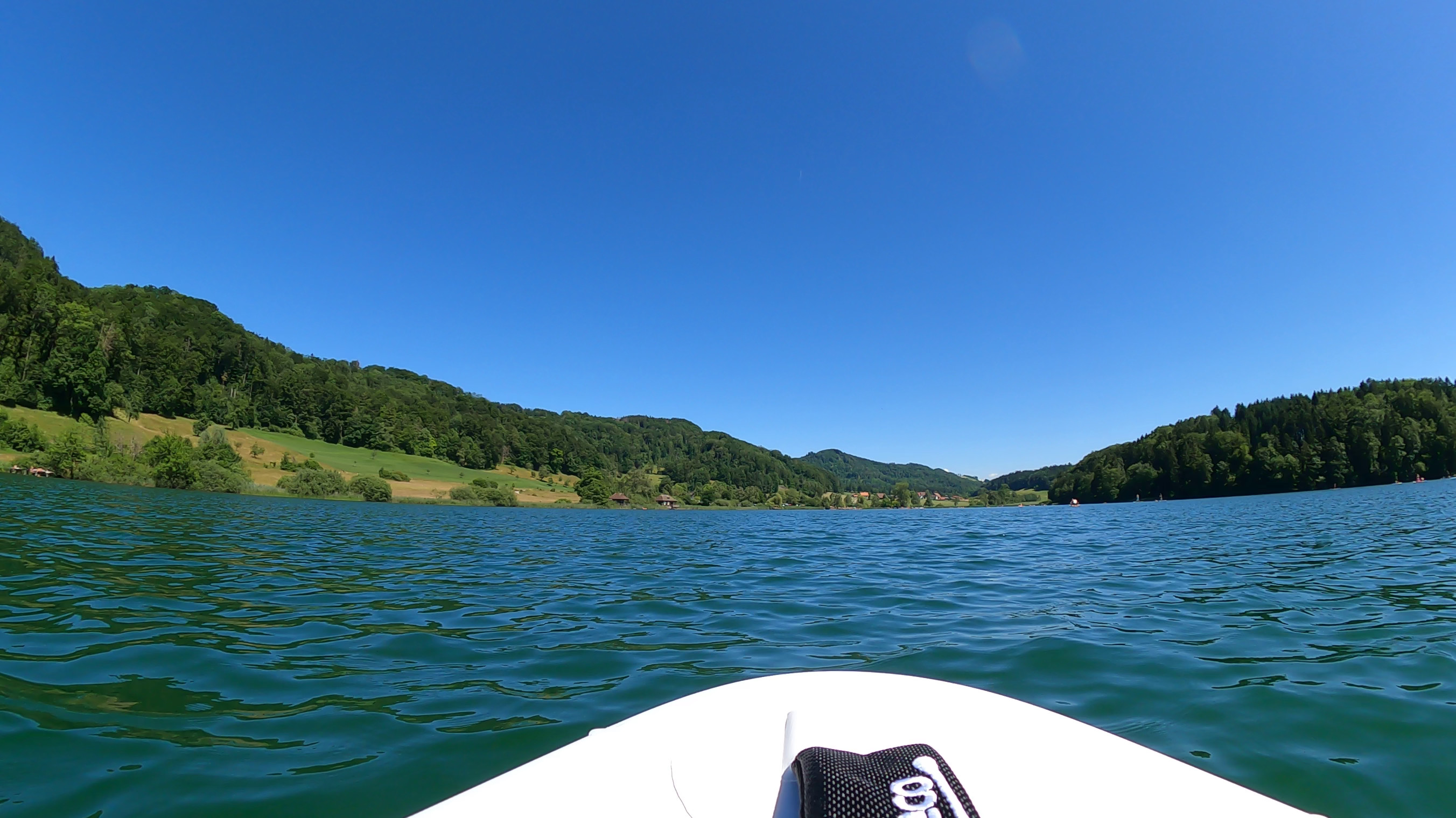 Well, approximately blue. This being a small lake, it's more blue-green than proper blue. That's next level, since bigger lakes mean waves, and more traffic.
Of course, this could also turn up like many other things I tried (a device in a corner that's not used anymore), but at least for yesterday, I was a happy paddler!